Immigration Law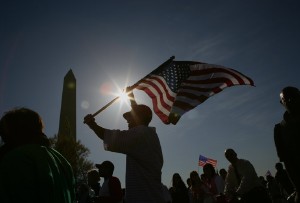 Immigrants rally in Washington, D.C.
We offer full services in Immigration Law
Since 9/11 the Immigration and Naturalization Agency (INA) has been integrated into the Department of Homeland Security. When you deal with the government, any particular process is cumbersome and time-consuming and this is no different. There are many rules and regulations which have to be followed precisely, step by step, and deadlines have to be met. Often, this is very laborious. If English is not your first language—and I know what I am talking about, many years ago I went through the same process—it is often very difficult to make sense of the many different ways a solution can be approached or, even more so, must be approached.
I am here to help you to maneuver as smoothly as possible through the process. You can make an appointment for an initial consultation; the fee for consultation is $150.00.
If you make an appointment to discuss criminal matters, please bring your court papers, if you have them, your police report, your passport, including your visa, to show when and where you entered the United States. We will discuss how to proceed and if, what can be done. It may be advisable to contact me before you appear in court and plead guilty. Make sure and ask your defense attorney what, if any, immigration consequences your court order will entail.
My law office deals mainly with applications of family-based visas, naturalizations and appeals of denied decisions because of criminal issues. Following please find a short summation about immigrant visas for family members. It is impossible to list all possibilities and options, they depend very much on the specific circumstances of each applicant.
In a recent article appearing in the Birmingham Metro I talk about some of the difficulties that our Immigration system is facing today (Our Broken Immigration System by Dagmar Rick).
Family-based Visas
A foreign national wants to join a family member who is a citizen of the United States or a Legal Permanent Resident (LPR). The family member can be a spouse, parent, child, brother, or a sister.
There are several different avenues that may be taken to acquire the privilege of Legal Permanent Residency. However, everybody basically has to follow the same few steps:
You have to file an I-130 Petition for Alien Relative and get this petition approved.
Your relative has to be a qualifying sponsor, as to the relationship and income. The sponsorship will be unlimited as to time; however, if you become a citizen or acquire 40 quarters of paid-in social security the sponsor will be released.
If you fall under the preference system, you must obtain an immigrant visa number from the Department of State before you can apply for Legal Permanent Residency.
To keep track of the visa number visit the visa bulletin of the State Department .
The route you take to become a citizen or LPR is different whether you live here or abroad: you may apply for a family-based change of status with the United States Citizenship and Immigration Service (USCIS) inside the United States, depending on you particular situation, or you may apply for a visa through the United States consulate in your home country (consular processing).
The USCIS requires you, besides providing detailed personal information, to submit your fingerprints for a background check and to undergo a medical examination provided by a Civil Surgeon, authorized by the USCIS. It is best to explore your options before you take action to avoid unnecessary expenses and difficulties later on. Your attorney will be able to advise you as to the best possible solution for you.

US Law classifies all Noncitizens as either Immigrants or Nonimmigrants
1. Nonimmigrant Visas for Temporary Stay
Business visitors
Students
Temporary workers
and many more
2. Immigrant Visas for Permanent Stay
There are three main programs:
Family reunification
Employment
Diversity
Each of these categories is numerically limited, depending on the number given for worldwide admission and/or depending on the home country of the applicant—they are given for every fiscal year.
3. Removal and Deportation Notices
We can help with Deportation Notices which you may have received for the following reasons:
Economics
Crime
Health
Morality
Politics
National Security
Unlawful presence in the US
Lawful admitted noncitizens—even Permanent Residents—can also be deported for conduct or circumstances not concerned with the immigration system itself; a criminal conviction is the most common example.
4. Criminal Offenses
Illegal entry
Unlawful presence
Transporting, smuggling, or harboring noncitizens unlawfully in the US
Fraud, including marriage fraud
5. Sanctions
The Immigration Reform and Control Act of 1986 (IRCA) punishes employers for knowingly employing noncitizens who are not authorized to work, for hiring persons without observing specified paperwork requirements (even if the employees turn out to be authorized to work), or for discriminating on the basis of national origin or, in certain cases, citizenship status.
6. Bars and Waivers
Depending on your particular situation, there may be a way to achieve your goal of admission into the United States, although in most cases this will be a very lengthy and cumbersome process.
If you are the wife of an abusive husband who is either an US citizen or a LPR (legal permanent resident) you can achieve permanent residence in the US under VAWA (Violence Against Women's Act), provided that you have proof.